Design
Plan Design Your Blog Procedure (Strategy)
Create rich quality content
Content Strategy 6 Guidelines
Content Strategy Building Blog in 3 Stages
SEO
SEO 11 Checklist
Tiny Keyword analysis
While choosing keyword remember following things
Monitor
Google Analytics
Google Search Console
Optimize
Focus Unique Pageviews
Improve Your CTR
Is it Hard or Easy
Design
Plane Design Your Blog
To better SEO, First, we need to identify the goal of the website.it might be 1)Become Professional blogger 2)To Improve the business(Business online presence) 3)Organisation website 4)Ecommerce website depends on the need, you need to plan the basic content on top of it you need to be built the SEO and link building.
Create a better content article on a particular topic, we need to spend time after a lot of study and effort, so we can produce a good article.
Create rich quality content
Find the user needs / try to write an article to answer their query to get clear insight ). Which topic you are good enough/content try to bring to the site and the business needs to try to build on it. At the same time if you can afford money use the keyword research tool. Content should be organized and simple to read. It will help users to come back and stay on your website.
While preparing content, try to search your keyword on google with how and why this is a smart way to ensure whether your content answers search queries. For every topic, basic learner, medium level, and expert search the space topic with different keyword. So try to give the content related to that. Essential important content is the matter.
So try to produce rich content. I always advise, if you are new to bloggers or Digital Marketing, write an article about SEO and your digital marketing, so that you will get a good idea before you start digital marketing. Because without knowing what is a digital marketing and How Google SEO works? you can't make a successful site. Once you are successful then try to build your article which one you like. This is one lesson I have learned from my past experience. If you have any questions, please feel free to write back to me. At the same time if you are interested in any other field with your passion post it plus focus on SEO.
Content Strategy 6 Guidelines
1)Initial blog writers don't have a clear strategy, the first week they focus on content writing, next week move to youtube video publishing.it is not a good content strategy, it may confuse your plan and won't get good results. it is good to focus on content strategy rather than focusing on multiple things. Better have a complete plan and then execute it.
2)Go to the
google/StackOverflow
- find the question related to your post and publish that question and answer to your blog(if you have really answer | don't make bluff it may give the wrong impression to the readers) 3)From google analytics - Get the information for your site's landing pages. Try to create content related to that keyword.which will bring more new traffic - Make it visual(Image/Video) content also.
4)whenever you publish a new post, to increase backlink try to publish related to the post. That will help you get more traffic.
5)Whenever you explain, explain with an example, it will give more user-friendliness to the reader. Make it more interesting to read more of your blog rather than just read without knowing what is happening. Make it easy and user friendly to consume your content. So that it will perform much better.
6)Don't focus on small posts, which may create a post without traffic. finally, become a zombie post. So focus on quality content. But anyhow if you get a small idea which helps the reader add into any post
Content Strategy Building Blog in 3 Stages
Building Site on Stage 1
1)Building a blog is like building a store Before you start you need to gather knowledge about what a blog is, so you can.
2)then you need to have an infrastructure domain(custom domain(.com, .org) or free domain(.blogspot.com)) + hosting(free hosting blogger) + Design(free template)) to build your normal site with initial setup.
3)Then you need to publish rich quality content as you can because if you have a store you don't have anything to sell. Nobody comes to your store.At the same time if you have a small store but have a lot of good items to buy. Then a lot of customers will come. Just like focus on the content, not Infrastructure initially.
4)Integrate to Google Analytics + Google Search console do basic search engine optimization
5)Allow some period, wait you're planted the seed to grow and yield the fruit or get the first fruit(visitor).
6)if you get initial visitors start to work on SEO optimization and better design about your page to improve your site optimization.
Give priority on the following percentage
Give Content Preparation 70%
SEO Optimization 20%
Domain + Hosting + Template design 10%
Because most of the site publishers are making mistakes here, they will do reversely, they will spend huge time on blog design 80%, but don't concentrate on content + SEO optimization.
Building Site on Stage 2
Give Content Preparation 50%
SEO Optimization 30%
Domain + Hosting + Template design 20%
The above two experiences, you gather some knowledge that may be helpful to others, so publish it as a post. So I always advise new bloggers to first publish posts related to blogging and SEO or what you are passionate about.
Building Site on Stage 3
Give Content Preparation 30%
SEO Optimization 35%
domain + Hosting + Template design 35%
Search Engine Optimization
What you gather knowledge, itself you can publish as a post. So no need to spend too much time on content preparation.what you have learned represents the simple way as readers like it. Give priority to your site search engine optimization at this stage 3, you can try to get knowledge from your past blogger experience.
1)Use google analytics and understand How google analytics crawl your site.
2)What you misunderstand and don't know clearly, try to understand in a better way. using this to try to make better new posts and old posts.
Domain | Hosting | Template Design
Now, you need to give importance to your blog design. Thing about
Better possibility of blogger design which will improve user experience without affecting the site loading speed(less script/resource).MY Recommendation, Use Blogger blog full width (Most of the good site look in that view).it makes your blogger like a full normal website.give a good impression to the users. refer -
https://www.techrbun.com/make-blogger-full-width/
without affecting user readability. In other terms is it really users and publishers get benefits.
Fix the Technical Issue(404 pages, SSL).
What is SEO
SEO Process has the following ways
1)content strategy with keyword research
2)web audit(complete site / Single Page)
3)SEO Analysis
4)link-building
SEO 11 Checklist
Content Preparation - Quality Content this topic I focus on above
Use Table of Contents
Use the heading
Title Prepare with numbers, it intrigues the user to read.
Use Image alt text
Title(h1- only - 20- 70 Character), h2,alt tag,
URL should be shorten rather longer (https://neilpatel.com/blog/h1-tag/ )
Article minimum should have 2100+ words.(google Docs Tools-> Word count)
Meta title - 65 Character
Meta description - 158 character
Avoid less than 300 content pages.
Publish fewer pages with high-quality content rather than too many pages with duplicate contents. user spent 80% of the time above 20% time below.so focus on important content on your top fold.
Look into the out of the box without draw away your topic. But look into the different views. For single posts spend 20 Hours then publish quality-rich content. Be a hard worker plus be a smart worker, then you will get good results. We need to work hard at the initial time, later we need to use our analytic thinking because Google is very
intelligent to crawl the right page for the right query
. So you need to work with passion and interest rather than competing with other pages.
Post Title
According to my approach if your topic is related to your interest. Add a title that is meaningful to the post and if you give them valuable rich content to the user rather than a dummy text. Definitely, it will add weight to your site. The later part if you want to improve your site ranking does the keyword analysis.
Tiny Keyword analysis
what you are going to publish, search it on google. And try to analyze the top 5 sites, how they have placed the content. Extremely high keyword density (google make a site as spam) Refer below Image - Single Keyword > 2-3 word phrases > 4-word phrases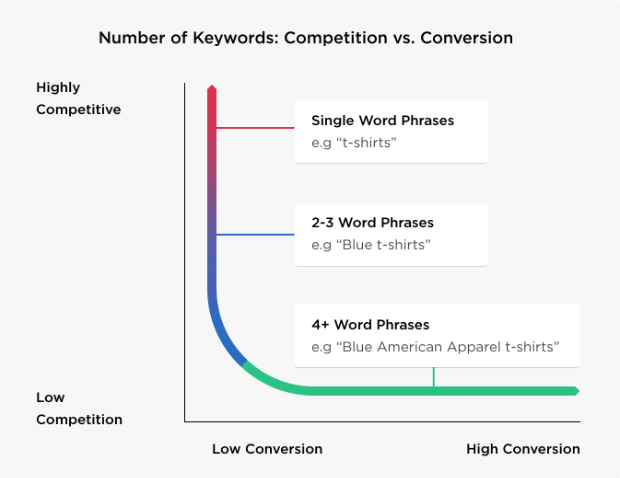 Source: https://www.blogtyrant.com/wp-content/uploads/2019/08/keyword-category-division-backlinko-briandean.png
so try to use the Long keyword inside a post What is vital content they have - with you analyze to try to form/optimize keyword cluster in your site.you can refer keyword density
Imagine the keyword should properly distribute into the page(word heatmap)
Use Google Search suggestion to get the keyword related to your post.
Google is giving importance to the word beginning of the content, so make sure at least your keyword appears on the top of your page.
While choosing keyword remember following things
1)Long-tail keyword -good it won't have huge search volume, less competitive
2)Good keyword density(synonyms) - (2 to 3)%
3)Use the keyword (good volume with less competition)
4)use the keyword synonyms
Google doesn't directly focus on keyword density on the site. So don't focus on the keyword density too much.it may degrade your site ranking. Instead, you can use synonyms or long-tail keyword) plus providing the content.
Monitor
After you have published the post, allow some time, Then monitor your site activity through the following Google tools.
Google Analytics
Google Webmaster
Google developer page speed
Google Mobile-friendly test
Optimize
Focus Unique Page view
After your new page gets indexed on google try to improve the first time publishing it normally(naturally) with a good presentation. Then play with your analytical skill and keyword search analysis to improve your site page ranking, after 30 Days.
Improve Your CTR
While checking particular page CTR, if it is giving less CTR try to improve the CTR, Use the Good Adwords to find the keyword- Old Post which gives less CTR on Google web search console. Change Description, From my analysis, some of the old posts giving good CTR on Desktop, Reason mobile user won't read the meta description. But on the Desktop user will read the description according to their discernment they will choose the site. So I have to change my site meta description to increase CTR.
Google suggestion tool and
Amazon e-commerce
Overall SEO Optimization
Every 6 month for your post - do Research,clean up,monitor,optimize. For your reference, How I am doing for my site, I have given the screenshot.
On-page SEO:
SEO optimization done on inside a website
Off-page SEO:
SEO optimization done off the outside website.
On Page SEO(incoming links/internal links/anchor Text).
To reduce the bounce rate, link back to old posts so that readers will stick around your site for longer and google re-crawl these old posts. Improve domain authority.
Google gives importance to many other factors like social media tools shares.
Improve the user experience(make your website more professional).
Is it Hard or Easy:
To bring your page into google index on the first 10 pages for a particular keyword really is not an easy job. It is a bit tougher. If you have a passion for content + Digital marketing then only it will work. In my experience, a lot of site publishers tried only a few of the stay on blogging for a longer time. If you bring traffic for one site, then you will get the confidence to bring it for other pages. In all labor there is profit, So try with your best after your better understanding of your SEO.you may get some improvement in your site. Because Before success there is a failure also. So if you didn't get traffic, don't be anxious, it may be good learning for you later days to help site SEO. After much analysis, still, if your site is not indexed. you need to find where your site is lacking on the google search engine. If you find a root cause, that is great learning rather than work on-site is like in a nightmare.